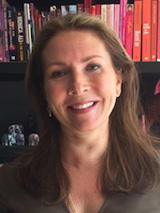 Vice-Chairman of the IWC Amsterdam
I was born and brought up in the tiny coastal town of Sandwich in Kent.  From my early years I dreamt of escaping to more exotic places and especially to the French speaking world.  I would spend the summers pretending to be one of the French students who visited our town! 
At 26 I moved to Brussels and that dream came true. The dream job too… organising international events and conferences took me to many exciting places. In Brussels I discovered not only how great the beer is but also the wonders of world music, which is still an abiding passion. 
Nowhere in my plans did a Dutch husband feature but love is blind and the rest is history as they say!  After our children were born (now 20 and 22) I wore many different hats: retrained as an image consultant, ran an English-speaking mother and baby group in Antwerp, served on the board of the International Women's Club there and volunteered for Oxfam. After moving to the Netherlands, I worked for Vluchtelingenwerk, giving guidance and support to newly arrived refugees and worked as a teacher's assistant to help refugees learn Dutch.
I'm a foodie and adore feeding people. I wake up thinking of food and the kitchen is my happy place. Music up loud, chopping away with a big smile on my face. Other passions include colour and fashion and especially exotic, shiny things! Travel is a source of inspiration for all of the above, whether physical or virtual through reading novels describing other cultures, set in faraway places.