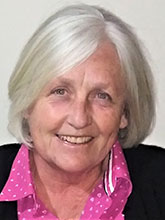 Vice-Chairman of the IWC Amsterdam
I was born in Bishop Auckland, in NE England, then studied at Manchester University (MSc, Medical Biophysics) and University College Swansea, Wales (PhD, Chemistry), I became a chemical analyst for Courtauld's in Coventry, then a technical sales manager based in Zeist, Netherlands.

I have been married to Chris for over 25 years and we have two grown up sons. I have had the good fortune to have been able to accompany my husband as his job in the coffee industry has taken him to different locations in England, Switzerland, and the Netherlands. Wherever we have lived, I have always been actively involved in my local community. Both boys were born in a high risk pregnancy unit at the John Radcliffe Hospital in Oxford (the Silver Star Unit) and I was active on their fundraising committee whilst living in Oxfordshire. It is still a charity close to our hearts. I became a primary school governor in Banbury, England, as well as Chair of the lottery funded Grimsbury Family Association. I was elected to Banbury's Parish Council during the same period. Wearing all three hats, my proudest moment was making a successful appeal to Oxfordshire County Council for a pedestrian crossing to be built to serve the school and the family centre.

On moving to Cheltenham, England, I became an infants' school governor. After four years, we moved to Zurich, Switzerland. Our two sons enrolled in the local international school, where I was grade parent for my elder son's grade during his six years in the secondary school, as well as running book, travel and walking groups for the Parent Teacher Association. We moved to The Netherlands in 2015 with our younger son. Again, I joined the parent community at the local international school and became a grade parent for his remaining three years in secondary school. I was delighted to become a team leader for the school's Newcomers'  Committee for two years, as it was particularly convivial, as well as a team leader for the community's book group.

My first visit to an IWC Amsterdam event was when I attended a Tuesday meeting at the Koninklijke Industrieele Groote Club as a guest. Not only was the setting amazing, but also the friendly welcome I received was remarkable, and I joined the IWC right away. I felt a real affinity with the women on the Charity Committee, and I was proud and pleased to be invited to be a member of it in 2019. I am delighted to have now been given the opportunity to join the IWC Board and I hope to repay the faith being shown in me by helping our friendly and supportive club go from strength to strength.