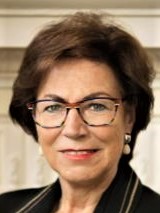 Treasurer of the IWC Amsterdam
I was born in Amsterdam and studied languages in Lausanne, Cologne, Bournemouth and Florence. I lived and worked in Italy in a holiday resort in Riva del Garda for 3 years, then managed a hotel for 5 years in Germany. In between I also managed drugstores. For the greater part of my life I was involved in the travel business, training hostesses, contracting hotels and apartments for the Dutch market and managing travel agencies. As I am retired, I enjoy my free time by traveling, playing bridge, golf, skiing and being a member of the IWC Amsterdam since 1998.

Since 2005 I joined the Board; first as Publicity Officer, Membership Officer, Treasurer and Extra Board Member. I am also a member of the Multimedia Team, Newsletter Editor, Open Door Coordinator and Club Historian.