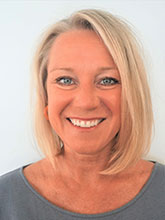 Public Relations Officer of the IWC Amsterdam
This is my first expat experience and we have been loving every minute of it! But it was definitely a huge decision to leave the United States where I had spent my entire life living in the Western Suburbs of Chicago. This was where my whole life was, where my family was, where my friends were and where my career was. After graduating college, I started selling real estate at the age of 21. While my real estate career was extremely successful and rewarding, it was also all consuming. Somehow, I still found time to travel, spend time with family and play volleyball with friends. Through mutual volleyball friends, I met my husband Timo. At the time, Timo had been living in the States for 5 years, after relocating to Chicago from Germany for a job in the financial industry. In 2016, Timo got a call from a company in Amsterdam, asking him if he would be interested in moving there. This was a very difficult decision to make, but our lives in the States, although very rewarding, lacked the quality of life we were looking for and needed. So, we decided to pack our bags and go. We moved to Amsterdam in January of 2017. We were lucky to find an incredible apartment in the Nine Streets, right in the city center of Amsterdam. While we loved it, after 18 months we decided to look outside the city, as we always had a dream of living on the water. This dream came true in the summer of 2018 when we purchased an apartment in Hoorn, directly on the Markermeer, where we see and listen to the water every day and watch beautiful sunsets almost every night!

I joined the IWC after living in Amsterdam for 1 year. I wanted to take that time to get settled in, adjust to life in Europe, for Timo to get acclimated at work, and for us, just to live…live life and enjoy everything that was available to us. We made a few good friends through Timo's work but I was wanting more in the way of friendships and experiences and this is what the IWC has given to me! It has certainly kept me busy…weekly games of canasta and mahjong while looking forward to the outings, activities, charity events, museum visits, etc. There is so much to do! I'm excited to now be on the Executive Board as the Public Relations Officer, where I get to share with our members everything the club is doing and has to offer through social media and our website, while also assisting the Board with important decisions regarding the club.