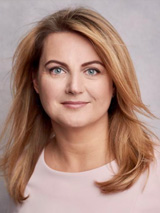 Public Relations Officer of the IWC Amsterdam
I'm a proud Lithuanian. I followed my heart to Amsterdam almost four years ago but I was already frequently in town for seven years before that, as my husband is Dutch. I'm a loving mother of two boys, one living in Maastricht finishing his economics studies, and the younger one living in Amsterdam facing his IB exams. Besides that, I have owned a chain of businesses in Lithuania for over 20 years, focusing on company gifts and promotional clothing and workwear, as well as real estate. For over twenty years, my passion was to establish myself as a recognised business woman with the ability to open the doors I wanted open. My goal was to reach the top of the market being surrounded by successful and influential people in the business.
More recently my focus has moved to the human side of business. I became an executive coach, observing the people who sat with me in meeting rooms, listening to their stories, learning about their challenges, their successes and their failures. It gave me a better insight to the issues I have dealt with and the opportunities that crossed my path.
My move to Amsterdam made me realise my need to create a social circle in this city. I am so happy to have become a member of the International Women's Contact Amsterdam, which unites women from all over the world, helping members who come to Holland to settle in, enjoy their new environment and gain a better understanding of Dutch life and culture.