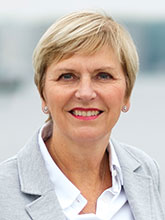 Programme Officer of the IWC Amsterdam
I am British and grew up in the North of England. After studying at university and working in London for a couple of years, I sold my apartment, packed my rucksack and headed off to Hong Kong – without a job to go to! I stayed there for five years and met my (now ex) husband there. We moved to the Netherlands 30 years ago and settled in the beautiful town of Edam. I have one son who is currently studying at the University of Amsterdam.

I set up a recruitment company in the late 1900's which specialised in placing international candidates with companies in the Netherlands. After 22 years, I stopped working in the business and have thrown myself into lots of different activities.

I joined the IWC, took up golf, started studying to be a coach, bought a puppy and moved to Amsterdam! The IWC is a wonderful group of women and I enjoy serving on the Board.