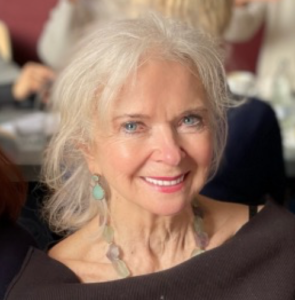 Member-at-Large of the IWC Amsterdam
Hello. I am Elizabeth (with a Z not an S as spelled on my IWC name plate!) Ann Stolte Fleming. I am a Canadian, have nine older siblings, born to Dutch parents who immigrated to Canada with the first three. And, fortunately for me my mother had not applied for Canadian citizenship by the time I was born, which has allowed my duel citizenship.
When I was 19 I travelled to Australia for a year, which fuelled my appetite to seek out more adventures and opportunities. I travelled for three years, working my way around and even as a cook on a gorgeous 70-foot sailing ship from Singapore through various Indonesian islands.  
Once back in Canada, I moved to the Yukon. I could weave many great stories about life up there. I stayed for seven years learning the hotel business and then went back to Western Australia and bought a small hotel with one of my sisters. That was a huge adventure; working hard and having fun building the business, then selling it and moving on. The next three years I lived on the Gold Coast in Queensland. Such a change of pace from endless wheat fields to endless ocean. Glorious! There I worked in real estate and owned my own "dress for success" company. 
Then back to Vancouver once more, where I met the love of my life Tim, and together we created our wonderful son Piers who is now 28 years old and a globe trotter in his own right. Due to Tim's work we moved to Paris, where I became a board member of the American Cathedral. I created and worked with a committee called "Parish Life", for the sole purpose of welcoming and reaching out to new and longstanding members to make them feel at home. 
After six years there, we decided to branch out on our own and move to a land with greater entrepreneurial opportunities: The Netherlands. We moved to the gorgeous little village Ankeveen, 17 km from Amsterdam. There I became instrumental in reintroducing the PTA to our son's school in Hilversum. I also worked on the Ankeveen Artistique committee, an annual art event. I expanded it by introducing a children's section, as well as instituting art instruction and developing the food and beverage provision. That was fun too.
While living in Ankeveen, I became a founding member of Stichting Tara Bodong. Through our fundraising efforts our small team built a home and school for 28 girls and two house moms in Lumla, a small village in Arunachal Pradesh, high in the Himalayas of India. I am most proud of the work I did for this charity, developing much of the fund-raising efforts that have changed so many people's lives.
Now here I am in Amsterdam, living with my wonderful husband and our sweet cat on a houseboat! I have been lucky enough to find this incredible club, the IWC. It has truly changed my life. I have time now and I am having more fun then I have had in years and it is due to this incredible community of IWC members. Never have I met such a group of wonderful women. I am so thankful for all that everyone does who make this such a welcoming and vibrant place to be. I love being part of the Charity Committee, which is so important to all of us, and working with such wonderful women is such a blessing. I also love chairing the Cafe Book Club and writing with Scribes Two. Such fun.
To be Member At Large will be an honour and I promise to do my utmost in respecting all that IWC stands for, to be welcoming, truthful and compassionate to everyone and to lend a helping hand.