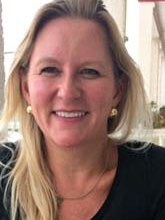 Member-At-Large of the IWC Amsterdam
One could say I am a classic example of a nomad, born to a Swiss mother and a Spanish father in Madrid, at the age of seven I moved to Barcelona and then a few years later to Cape Town, South Africa. That was just the beginning of a life of travel, adaptation, learning new cultures and new languages. I have not only been a trailing child but also a trailing spouse to many exciting destinations where I have managed to raise my four wonderful children through the rollercoaster of expat life. I have worked on and off whenever possible between my many destinations, owned fashion boutiques in several countries, worked doing translations, directing dubbing of movies and have been a Human Resources Benefits and Compensation Specialist for Nike.

For the last two years I am back for the second time living with my Dutch husband in The Netherlands, although this is my first time in Amsterdam. Returning to The Netherlands from The Middle East was a conscious family decision taken together with my adult children, as after many years of always being far away from each other, we all chose to come back to Europe to be close to one another.

I think most of you already know me, as I am very active in our club, and love joining many of our activities, Diva outings and interest groups. I am not only the coordinator of our Picture Perfect Film Club, but an active member of our book clubs, museum group, Dutch conversation, canasta and mahjong group. Joining the IWC has been wonderful. I love the fabulous outings, fundraising events for our charity, cultural trips and most of all the wonderful like minded women with whom I have forged invaluable friendships. By joining the board of the IWC I hope to be able to pay back to our community some of the joy and support I myself have received. I trust I will live up to the task at hand.