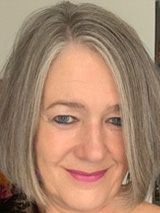 Member-At-Large of the IWC Amsterdam
I have lived in Amsterdam for nearly 15 years and am originally from Dundee, in Scotland. In my professional career, I have lived and worked in the US, UK and the Netherlands, coming to the Netherlands because of my role with the Dutch bank ING. Four years ago, I left ING, and am now running my own coaching practice based in Amsterdam. I'm the current Chair of the Commercial Anglo Dutch Society, which is a business networking club for British and Dutch people, which meets monthly, and I very much enjoy organising those meetings, selecting the venues and securing the speakers. 
I'm a single parent to three grown-up sons, and probably because of that I'm a keen sports fan, loving F1 and Man United in equal measure! Often described as a 'party animal', I'm a bit of an extrovert and always love a boogie! I'm a big urban walker, and meet with friends most weekends for a nice coffee and an explore of Amsterdam. I also really enjoy wining and dining in the great restaurants in the area. In normal times, I can also often be found on a plane en-route to somewhere exotic in the world, particularly loving the Caribbean!