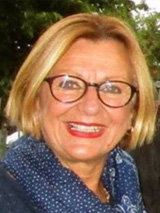 Chairman of the IWC Amsterdam
I was born and raised in Rotterdam, The Netherlands. I'm married with two children and two grandchildren. I have experienced life as an expat in Dorset, United Kingdom for five years, and in Washington DC, America for five years. After that, I lived in Canberra, Australia for two and a half years, and that is where I joined and became active in the Women's International Club of Canberra (WIC). That was a real life-saver for me in a foreign country, as I discovered that the friendships and activities I enjoyed were a great way to enjoy the Australian way of life.

In 2002 my husband and I returned home to the Netherlands and I became a member of the IWC Amsterdam. I soon began to take an active role in the club. During 2004-2008, I served on the Board as Membership Officer and Charity Officer. I also enjoyed the role of Chairman of the Welcoming Committee, working with a team of international ladies committed to helping newly arrived members meet others from their own countries as well as giving help and information on life in The Netherlands. I now find myself Chairman of the IWC Amsterdam and feel honoured to serve our members.

I love to organise outings with my IWC Activity group, "The Divas" and to share the history of my small but very interesting county. I also organise outings and tours to other European countries a couple times a year, and these are very much enjoyed and appreciated by our members. The reward of happy faces at the end of the day is always very satisfying to me.