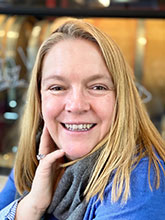 Activities Officer of the IWC Amsterdam
I am an Australian who has been on the move since 2003 and my family has been fortunate to live in many different countries – USA, Germany, Japan and now the Netherlands for the second time and we have loved the adventure. My background is in education, teaching at both pre-school and primary school levels and I enjoy learning about new cultures, food, people and travel.

I have experienced first hand the disruption relocating can bring and the disorientating culture shock that comes with each move, especially with children. While our two adult sons remain in the US, they have also ultimately enjoyed and benefited from their international upbringing.

I really value organisations like the IWC, as this is a great way to find friends, get advice and bridge your old culture to the new.  It was an easy decision to run the Monthly Activities and I value everyone who gives their time to successfully run all aspects of the club. I am honoured to be part of the IWC community and look forward to meeting you all.