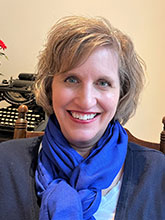 Secretary of the IWC Amsterdam​
If someone had told me a year ago that my husband and I would move from the U.S. to Amsterdam in 2021, I would scarcely have believed it. Yet here we are, complete with two dogs. We moved from South Dakota, a sprawling but sparsely populated state. I've always lived in the Midwest other than a brief stint in Washington, D.C., before I was married. My 93-year-old mother still lives in the tiny town I grew up in, as does one of my brothers.  

The oldest of our three daughters is an aspiring opera singer in Chicago who supports herself mostly through piano and voice lessons. The younger two are twins. One lives in Washington, D.C., where she's just launching her career in political communication. The other currently lives in St. Paul, Minnesota. She hopes to be living in Europe before long (Vienna, it appears); she's had a couple of job offers, so she's busy sorting out the visa details.

Ages ago I went to law school and practiced for a bit, but I quit to focus on a freelance writing career. I've been freelancing for about 25 years, often juggling other positions with it, such as a part-time college instructor, a non-profit development director, and an editor/writer for corporate communications. Much of my freelance writing has been in the educational market, which means I've written a bunch of short fiction and nonfiction books found in classrooms and school libraries.

As we adjust to life in a new country, I've put the freelance work on hold for a short time and have set myself a goal of drafting a novel for kids that's been rattling around in my brain for years. (I always meet deadlines an editor imposes, but these self-imposed deadlines are more challenging!)

Reading, biking in the countryside, and trying to learn a bit of Dutch are additional interests. We are looking forward to travel opportunities that come with living in the Netherlands, including to Sweden where my sister-in-law and her family live.

I love the diverse opportunities the IWC offers and am excited to be meeting such interesting women from around the world.